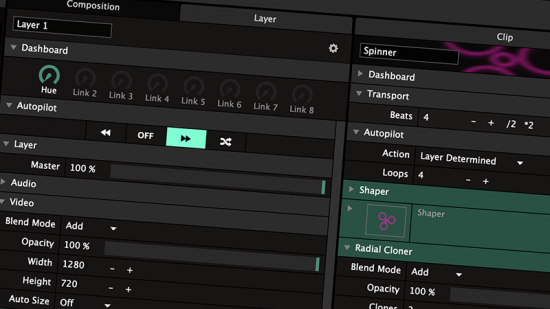 File Size: 970 MB
Resolume Arena破解版是一款专业的VJ音视频服务器软件,软件音像播放能力强大、视听效果震撼、音频分析全面,还支持三维opengl加速合成,适用于演唱会、舞台演出、LED屏幕租赁、酒店场合、电视墙、支持台标、字幕、现场摄像机混合等专业演出功能。你可以自由的现场即兴创作甚而无需要暂停视频影像。
Resolume Arena has everything Avenue has, plus advanced options for projection mapping and blending projectors. Control it from a lighting desk and sync to the DJ via SMPTE timecode.
---
What's New In Resolume 7?
UNDO
You now have a little guardian angel looking over your shoulder. Made a mistake? Just hit undo and you're back to where you were. Accidentally removed a deck instead of renamed it?
Hit CTRL + Z and all your clips are back. Phew!
Undo is also a great design tool. Feel free to experiment with the look of your clips, apply effects, change the colors and if you do not like what you see you can always go back with undo.
Color Eye Dropper
Pick a color from anywhere on your screen and apply it in your composition.
Multiple MIDI Devices
What's better than an APC40? Two APC40's!
Connecting multiple MIDI devices was always possible but their MIDI signals would get mixed. Resolume can now distinguish MIDI coming from different devices making them work nicely together almost magically.
Improved Random Playback
Random playback was always a bit too … well … random. But you now have a lot more control over random playback. You determine how often it will jump to a new random position and how far it is allowed to jump.
Color Palette Animation
Pink Green Pink Green Pink Green Pink Green
Animate your favorite colors in a color palette.
Autopilot Loops
You can now determine how often a clip should loop before advancing to the next.
MetaBalls, Sine Wave, Spiral
They say it's more sustainable to buy local produce. So we worked together with The Hague based artist Darien Brito to create a few versatile generators so you can create even more visuals right within Resolume.
Whats New :
official site does not provide any info about changes in this version