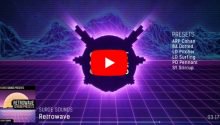 1.18GB
FULL PACK: 1.18GB | PRESETS PACK: 23.6MB
Surge Sounds提出的Retrowave是Retrowave声音的新集合,它将在Xfer Serum中释放您的创作自由。我们一直在努力提供最先进的创新声音,以增强您的创造力,并对您真正有价值。
在此背包中,您会发现怀旧的预设和构造套件,这些套件经过精心设计,旨在提高您的创造力。受Retrowave传奇人物(例如Power Glove,Robert Parker,Com Truise和Mitch Murder)的启发。每种声音的设计都是为了打造充满活力和真实的Retrowave产品。
该包提供了128个旋律和怀旧的预设以及3个包含所有相关主奏,循环,预设和MIDI文件的构建套件。这些声音保证可以将您的音轨带到前所未有的地方。
无论您是经验丰富的制片人,还是想要深入研究这种令人振奋的流派,Retrowave都能确保您提高创造力!
……:::::: A V I B R A N T & A U T H E N T I C R E T R O W A V E C O L L E C T I O N ::::::……
Retrowave, presented by Surge Sounds, is a new collection of Retrowave sounds that will unlock your creative freedom within Xfer Serum. We are always pushing to provide cutting edge and innovative sounds to enhance your creativity and be truly valuable to you.
Inside this pack you will find nostalgic presets & construction kits designed with maximum care and crafted to boost your creativity. Inspired by Retrowave legends like Power Glove, Robert Parker, Com Truise & Mitch Murder. Every sound was designed to create a vibrant & authentic Retrowave production.
This pack provides 128 melodic and nostalgic presets plus 3 construction kits with all relevant stems, loops, presets & MIDI files. These sounds are guaranteed to take your tracks to places they've never been before.
Whether you're a seasoned producer or you're looking to dive into this incredibly electrifying genre, Retrowave is guaranteed to enhance your creativity!
……:::::: Product Specifications ::::::……
• Format: WAVs/MIDIs/Synthesizer VSTi Presets
• 128 x Presets For (Xfer Records Serum)
• 025 x (Leads) Sounds
• 025 x (Synths) Sounds
• 024 x (Basses) Sounds
• 022 x (Plucks) Sounds
• 016 x (Keys) Sounds
• 015 x (Pads) Sounds
• 001 x (Arp) Sound
• 004 x (Macros On Every Preset)
• 001 x Xfer Records Serum (Custom Wavetable)
• Requirements: Xfer Records Serum v1.214+ or higher.
• 003 x Construction Kits – (Including: (Wet/Dry) Stems/Loops, MIDIs, VSTi Presets Files)
• 003 x Mixed & Mastered FullMix/Preview Demos
• 066 x Individual (.WAVs) Stems Files
• 148 x Individual (.WAVs) Loops Files
• 018 x Individual (.MIDIs) Files
• 018 x Individual (.VSTi Presets) Files
• 382 x Files In Total
• Key And Tempo-Labelled
• 44.1kHz 24-Bit High Quality
• Compatible With All DAWs
• PC & Mac Compatible
• 100% Royalty-Free