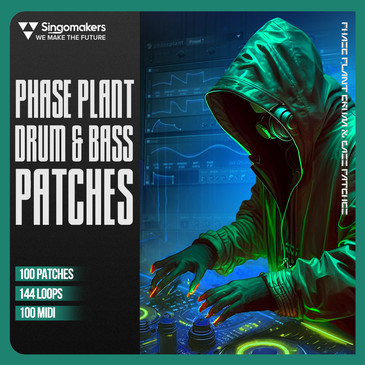 FANTASTiC | 09 September 2023 | 419.50 MB
隆重推出 Singomakers 最新的鼓和贝司合成器预设包,这次是专为声音独特的 Kilohearts Phase Plant 合成器而设计的。 该包包含超过 500 MB 的内容,具有 100 个 Phase Plant 预设、100 个 MIDI 文件和 100 个相应的 WAV 循环,包括贝斯、合成器、打击垫和 FX,所有节奏均为 174 BPM。
这些预设的灵感来自一些业界知名人士的扭曲 DnB 曲目,例如 Insideinfo、Mefjus、Phace、Ulterior Motive、Konflict、The Prototypes、Noisia、Ed Rush、Optical、The Upbeats、Netsky、Calibre、Spectrasoul、 冰柱和零-T。
除了预设之外,我们还包括 44 个奖励循环,其中包括贝斯、鼓、合成器和 FX,让您拥有更多的创作自由来制作自己独特的声音。
要了解有关创建专业听起来的贝斯线、合成器、音调构建和其他音乐制作技巧的更多信息,您可以查看我们的鼓和贝斯制作课程!
有了这个示例包,您将拥有将 DnB 制作提升到新水平所需的一切。 不要错过这个利用这些尖端预设和循环增强声音的机会。
立即获取我们的 Phase Plant 鼓和贝斯补丁包!
本网站/页面上对任何品牌的任何引用(包括对品牌和仪器的引用)仅供说明之用。 例如,提供对乐器品牌的参考来描述乐器和/或样本中使用的乐器的声音。 Loopmasters 与这些品牌没有(也不声称)有任何关联或认可。 这些品牌所附带的任何商誉均归品牌所有者所有。 Loopmasters 或其供应商不承担与样本内容或描述准确性相关的任何责任。 "RHODES"是 Joseph A Brandstetter 的注册商标。
产品详情:
• 535 MB
• 24 位样本
• 44 个奖励循环(贝斯、鼓、合成器、FX)
• 100 个 WAV 循环(低音、合成器、Pad、FX)
• 100 个 MIDI 文件
• 100 个阶段工厂预设
• + 促销和折扣文件夹
Introducing Singomakers' latest drum & bass synth presets pack, this time specifically designed for the unique-sounding Kilohearts Phase Plant synthesizer. With over 500 MB of content, this pack features 100 Phase Plant presets, 100 MIDI files, and 100 corresponding WAV loops including basses, synths, pads, and FX, all at a tempo of 174 BPM.
These presets are inspired by the twisted DnB tracks from some of the biggest names in the industry such as Insideinfo, Mefjus, Phace, Ulterior Motive, Konflict, The Prototypes, Noisia, Ed Rush, Optical, The Upbeats, Netsky, Calibre, Spectrasoul, Icicle, and Zero-T.
In addition to the presets, we've included 44 bonus loops consisting of basses, drums, synths, and FX, giving you even more creative freedom to produce your own unique sounds.
To learn more about creating professional-sounding basslines, synths, pitched build-ups, and other music production tricks, you can check out our Drum & Bass Production Course!
With this sample pack, you'll have everything you need to take your DnB productions to the next level. Don't miss out on this opportunity to enhance your sound with these cutting-edge presets and loops.
Get our Phase Plant Drum & Bass Patches pack today!
Any references to any brands on this site/page, including reference to brands and instruments, are provided for description purposes only. For example references to instrument brands are provided to describe the sound of the instrument and/or the instrument used in the sample. Loopmasters do not have (nor do they claim) any association with or endorsement by these brands. Any goodwill attached to those brands rest with the brand owner. Loopmasters or its Suppliers do not accept any liability in relation to the content of the sample or the accuracy of the description. "RHODES" is a registered trademark of Joseph A Brandstetter.
Product Details:
• 535 MB
• 24-Bit Samples
• 44 Bonus Loops (Bass, Drums, Synths, FX)
• 100 WAV Loops (Bass, Synths, Pads, FX)
• 100 MIDI Files
• 100 Phase Plant Presets
• + Promo & Discount Folder
资源下载
此资源购买后100天内可下载。微信号:musicyoupin