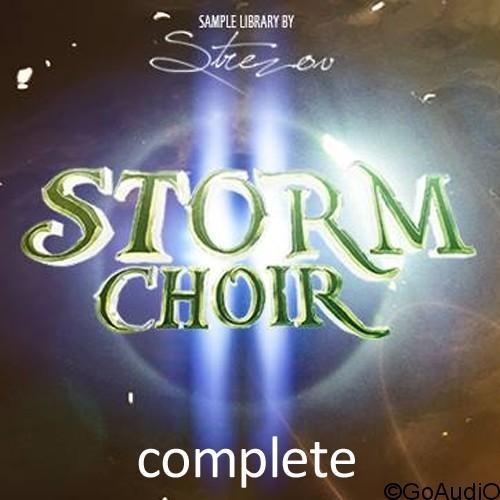 TEAM MAGNETRiXX | March 04 2017 | 66.1 GB
在《风暴合唱团1》获得巨大成功之后,Strezov Sampling自豪地展示了备受期待的续集,该续集采用了同样广受好评的概念,并将其在细节和表达方式上提升到了一个全新的高度。
风暴合唱团2是由12个部分组成的室内合唱团,着重于斯拉夫式莫尔托颤音。合唱团由六名男子和六名妇女组成,分别录制,由保加利亚最优秀的合唱团演唱,其中包括国家广播电台,索非亚爱乐乐团和学术合唱团。
Strezov Sampling旗舰库的完整捆绑包结合了Core和Exp包的内容。
After the huge success of Storm Choir 1 Strezov Sampling proudly presents the highly anticipated sequel, which takes the same critically acclaimed concept and takes it to a whole new level in terms of detail and expression.
Storm Choir 2 is a 12-piece chamber choir with focus on a slavonic molto vibrato tone. Comprised of six men and six women, recorded seperately, the ensemble features singers from Bulgaria's finest choirs, including the National Radio, Sofia Philharmonic and the Academic Choir.
The Complete Bundle of the flagship library from Strezov Sampling combines the content of the Core and Exp packs.
True Legato Singing
Unlike Storm Choir 1 its successor features legato patches with recorded transitions (true legato) for women and men. The Core edition of Storm Choir 2 gives you the most important articulation for modern choir arrangements the "Ah" vowel. Since the release of the Ah Legato module in early 2014 our custom built legato engine earned itself the reputation to be the smoothest and most playable choir legato ever done. It can be heard in countless Triple A productions worldwide and is a perfect showcase for the superiority of the chamber choir concept compared to sampled choir ibraries with bigger ensembles available on the market. For a real life impression make sure to watch the walkthrough videos and the official audio demos.
Phrasebuilding
A very popular approach to letting a virtual choir sing lyrics in recent years has been Phrasebuilding. Storm Choir 2: Core offers 24 deeply sampled matching syllables for both the sustain (marcato) and staccato articulation accessible in an intuitive and easy to use Phrasebuilder Engine within Native Instrument's Kontakt sampler. Switch between different phrases and layer samples using our unique Stack option to create a more powerful sound or tighten your custom phrases with the new Tightening feature we added with the recently released 2.1 update.
True Legato Soloist and Oh Legato
The expansion to StormChoir 2 Core gives you more options for true legato singing providing a mystical sounding Soprano Soloist and the "Oh" vowel recorded and edited in the same way as our renowned "Ah" Legato for both women and men.
FX Section
With this expansion set StormChoir 2 now also includes the most extensive and detailed choral effects collection currently available on the market. While StormChoir 2 Core included 24 matching syllables for both sustains and staccatos, the FX section brings you atonal variations for all of those syllables and both articulations as well as a brandnew way to use consonants and whispers to improve the realism of your mockups. To make this huge collection still easy to work with it is again built into our phrasebuilder engine, which is also used for the Core edition. As a special bonus the Expansion also comes with prerecorded falls and risers for women and men.
Overview:
•12 – piece chamber choir
•Slavonic molto vibrato tone
•Seven mic positions (Close, Section, Decca, Outrigger, Balcony, Rear Overheads, and Mixed)
•True Legato samples for both women and men
•Stack (Overdub) functionality
•Tightening functionality for all tonal sustains and staccatos
•24 different syllables accessible through an intuitive phrasebuilder or keyswitches
•Men Sustains (Marcatos) PP, MF, FFF
•Women Sustains (Marcatos) PP, MF, FFF
•Men Staccatos PP, MF, FFF
•Women Staccatos PP, MF, FFF
•Men Ah Legato MF-FFF
•Women Ah Legato MF-FFF
•Men Atonal Sustains PP, MF, FFF
•Women Atonal Sustains PP, MF, FFF
•Men Atonal Staccatos PP, MF, FFF
•Women Atonal Staccatos PP, MF, FFF
•24 Men Whispers
•24 Women Whispers
•Men Oh Legato MF-FFF
•Women Oh Legato MF-FFF
•Solo Soprano Ah Legato
•24 Solo Soprano Staccatos
•24 Solo Soprano Sustains
•24 Solo Tenor Staccatos
•24 Solo Tenor Sustains