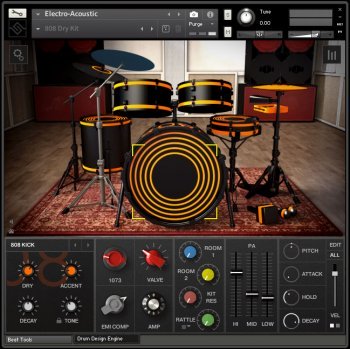 FANTASTiC | 19 November 2019 | 13.8 GB
WHAT IF YOU RECORD DRUM MACHINES IN A PRO STUDIO?
如果您在专业工作室中录制鼓机,该怎么办?
我们想将经典的鼓机(准确地说是15台)与工作室录制鼓的有机氛围和温暖结合在一起。
因此,我们将一个PA俱乐部带到了两个不同的工作室,将它调得很大声,并记录了结果:通过高端麦克风,老式调音台,瓣膜前置放大器,低音放大器甚至是声学鼓壳。
THE DRUM MACHINES
THE STUDIO CHANNELS
Each drum was recorded through 11 different channels in the studio – blend to create any drum sound you desire.
1073: An overdriven Neve preamp.
Valve: Rooster preamp with 'attitude' dialled in
Amp: Ampeg bass cabinet mic'd up
EMI: TG12345 desk compressor
Room 1: SOTA studio – stereo SF-24 mic
Room 2: MV studio – spaced KM84 pair
Kit Res: Tom drums mic'd up
Rattle: Drum shell + other acoustic artifacts
PA: High, Mid and Low mics. Hi + Mid are stereo.
THE KONTAKT INSTRUMENT
THE DRUM KIT PANEL
The sound-design heart of Electro-Acoustic, this screen has everything you need to build incredible sounding kits. Scroll through different drum machines for each kit piece, shape it using the 11 studio channels, then get really creative with pitch and envelope controls. For advanced drum-geeks, you can edit these for each channel independently if you desire.
ORIGINAL HARDWARE SAMPLE MODELLING
•Five round-robin layers for natural analogue variation
•Seperate Accents
•Original control knobs such as Decay, Tuning, Tone, faithfully recreated
•808 Bass Drum: DECAY + TONE knobs x 11 studio channels: 13,310 samples.
•87,000 samples in total
•Electro-Acoustic can be as simple or complex as you like.
•Mix each drums' 11 studio channels intuitively..
•or go deeper and shape each one with tuning, envelopes and filters.
Features + Specs
•15 Vintage drum machines
•11 Studio channels: mics, preamps PA speakers
•3 creative sequencers: Euclidean Beats, Beat Shifter, Poly Beats
•Build your own hybrid drum kits, e.g.: 808+606+Linn+DMX
•180+ Preset Kits
•24 Bit 48 khz Sampling – 14GB core library (with NCW compression)
•Kontakt Player + NKS compatible
Requires KONTAKT 5 or KONTAKT 5 PLAYER version 5.6.8 or later
home page