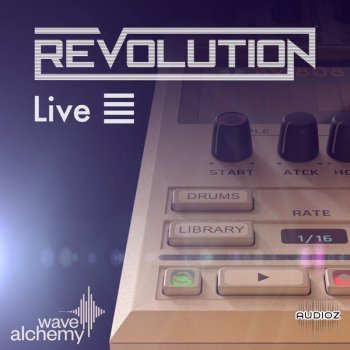 Team DECiBEL | 18 Nov 2019 | 4.61GB
适用于Ableton Live的14台鼓机
Revolution for Live是我们屡获殊荣的Revolution Drum Machine的深度集成的独立Live Pack版本。 (无需插件或Kontakt!)
想象一下拥有一家拥有当今最有影响力的鼓机的工作室的梦想。想象一下,立即访问标志性的TR-909、808、606、707,CR-78,CR-8000,Linndrum,Drumtraks,Drumulator,OB-DX等许多真正真实的声音。想象一个梦想成真的世界…
彻底改变您的生活架…
Revolution for Live是一个定制的,深度制作的Live Pack(具有复杂的Push集成),可以在功能强大的Ableton Live环境中,将14台世界上最具标志性的鼓机直接交付给您的DAW,并可以完全控制所有音调控制原始的鼓机。
首次进入Live,您可以访问我们时代最有影响力的鼓机的TRUE声音和功能集-808、909、606、707、727、505,CR-78,CR-8000,Lindndrum,Drumtraks ,鼓手,OB-DX,SP-12。
It's all about the sound
Revolution for Live is powered by many tens of thousands of beautifully recorded samples; capturing every possible sound / tone / knob variation and nuance of the original drum machines, along with the subtle differences in behaviour inherent of analogue electronics (via round robin). Each sound has been carefully recorded via a transformer balanced Radial JDI and brought to line level with a NEVE 1073 / API 512c pre-amp. To retain the full frequency range and dynamics of the original instruments, we carefully matched the peak level of each drum, recording them through mastering grade conversion.
Revolution for Live is not a digital 'emulation'. Nor is it a typical set of drum machine samples you might find elsewhere. It is the real authentic sound of 14 of the world's most iconic, sought-after drum machines.
Build your dream Drum Machine in Live
Drag and Drop any of Revolution for Live's 150 'Drum Machine Modules' into your Live Rack to build your own modular dream Drum Machine! Have you ever dreamt of using a Drum Machine boasting an 808 kick, 909 snare, 707 toms, 606 hats and Linndrum percussion? Now you can, at the click of a button – the choice is yours!
Alternatively, load our pre-built full Drum Machine Kits which are available for all 14 Drum Machines, or browse hundreds of MIDI drum patterns to quickly spark your inspiration.
Revolutionary Integration
Revolution for Live integrates seamlessly with Ableton Live (Live 9 and Live 10 are both supported), delivering endless inspiration and a compelling workflow to spark creativity. All Drum Machine and analogue tone shaping parameters from the original machines are visible and easily accessed via clever Drum Rack Macros. Easily automate all analogue parameters or build complex grooves using Live's sequencer or Push.
Adding character
Want to add extra character and punch? Many of the Drum Machines in Revolution for Live have additionally been carefully recorded to analogue tape at multiple saturation levels (via a Studer A800), as well as through a vintage SP-1200 sampler and boutique high-end analogue processing chains…
Drum Rack Macros (and Push) allow you to dial in a desired 'Character' for most Drum Machine Modules. Want a raw sounding, true to the original 808 Bass Drum? Want a real analogue tape saturated 909 Snare Drum? How about a gritty re-pitched SP-1200 processed Linndrum clap? Revolution for Live makes it possible!
True Tone Control…
When you turn for example the Tune, Attack or Decay Macro Knob on the 909 Bass Drum in Revolution for Live, you're seamlessly (and smoothly) scanning through thousands of samples recorded from the original machine at that mirroring knob position / state. The same is true for every Drum Sound / Drum Machine within Revolution for Live. This means that nothing digital / destructive is happening – you're in fact hearing the true sound and tone shaping of the original drum machine!
FEATURES
– Feature-rich, deeply integrated Ableton Live Pack. Works with both Live 9 and Live 10 (Lite, Intro, Standard and Suite)
– Faithful emulations of 14 of the world's most iconic Drum Machines
– Control the true analogue tuning, sound / tone / knob position of each of the 14 Drum Machines via Drum Rack Macro Controls or Push
– Recreate every nuance of 14 iconic drum machines or define your own unique sound using the Drum Machine Module Racks
– Create your dream Drum Machine by mixing and matching dynamic Drum Machine Module Racks (one per each sound type of each Drum Machine)
– Quickly load full Drum Kits for any Drum Machine with all controls exposed
– Introduce REAL analogue tape saturation, character and vintage grit using Drum Rack Macros or Push
– Seamless integration with Ableton Live & Push
– 30,000 drum samples, beautiful recorded in 96KHz through a high-end signal chain and captured with Apogee Symphony MKII conversion
– Browse 120 MIDI Drum preset patterns for instant inspiration
– Additional 'Lite' versions of most Drum Modules and Drum Kit Racks, enabling quicker load times when round robin sampling is not needed
– Extensive round robin sampling in the full Analogue Drum Kits and Modules
– Slop, random pan and various other sound design functions additionally available per Module / Rack
– Don't use Ableton Live? You'll still have access to all of the raw WAV samples (30,000 of them) when purchasing this product. Or, you can view the Konakt Player Instrument version of Revolution HERE
– 7 GB in size after unpacking