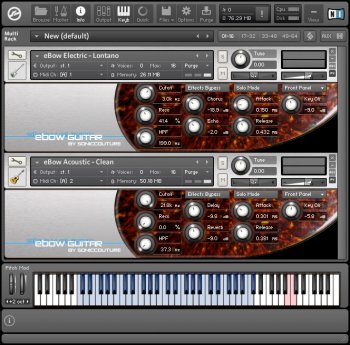 Team DYNAMiCS | 11/25/2007 | 841.59 MB
ebow(能量弓)是一种小型手持设备,可以利用电磁场"弯曲"吉他的弦。它产生独特的吉他声音,并具有非常慢的打击音和无限的延音。要弹奏ebow,吉他手将其保持在琴弦上,靠近拾音器或孔,以使琴弦位于eBow底侧的小凹槽中。
然后,eBow的磁铁使琴弦振动,直到琴弦以其自身的共振频率反馈自身为止。该反馈回路与众所周知的放大器反馈非常相似,但可控性要强得多。播放器可以通过靠近或远离琴弦来改变声音的响度,就像放大器的反馈一样。 ebow可以从低功率模式切换到高功率模式,从而产生强烈的和声丰富的声音。
几乎所有的吉他手都在太阳下一次或多次使用ebow:Radiohead,Tom Petty,Dave Gilmour,Sigur Ros,NIN,Coldplay,Smashing Pumpkins,The Cure,REM,U2等。
创建采样的eBow仪器
我们想为所有那些非吉他演奏者,或者可能是在使用原声吉他时遇到问题的吉他手捕捉ebow的声音!辛苦地采样了两把吉他,一把原声和一把电。两者都使用高功率和低功率ebow设置进行采样,先使用颤音,然后再使用不颤音。
每个音符都记录了几个音符样本,以使乐器的响应尽可能详尽和逼真。音符的音量可以被用户混合以品尝。声音以全立体声录制,以提供自然,宽敞的图像。录制的电单声道D.I可与放大器模拟器一起使用或用于重新放大。
高功率和低功率设置可以使用拨轮来淡入淡出-物理上的弯腰无法实现的非常有表现力的效果!可以使用按键B5 / C6上的按键开关选择颤音样本。
细节:
原声吉他:圣克鲁斯无畏D型电吉他:Gibson SG 61重新发行(单簧管拾音器)
11组450个立体声24位44.1khz样本
立体声对麦克风录音
范围E1-G4
每个音符3个音符样本(循环)
每个音符在eBow Low Power,Vibrato和Non-Vibrato(R.Robin)上采样两次
每个音符在eBow High Power,Vibrato和Non-Vibrato(R.Robin)上采样两次
10组中的500个Mono 24 Bit 44.1khz样本
高品质D.I.录制用于重放/放大器模拟器
范围C1-C#5
每个音符2个音符样本(循环)
每个音符在eBow Low Power,Vibrato和Non-Vibrato(R.Robin)上采样两次
每个音符在eBow High Power,Vibrato和Non-Vibrato(R.Robin)上采样两次
主页
soniccouture.com/
The ebow ( Energy bow), is a small, hand held device that 'bows' the strings of a guitar using an electromagnetic field. It produces a unique guitar sound, with a very slow attack and infinite sustain. To play the ebow, the guitarist holds it over the string, near the pickup or hole, so that the string sits in a small notch on the underside of the eBow.
The eBow's magnets then cause the string to vibrate until it feeds back on itself at its own resonant frequency. This feedback loop is very similar to the well-known amplifier feedback, but a much more controllable version. The player can vary the loudness of the sound by moving closer or further away from the string, as with amplifier feedback. The ebow is switchable from low power mode to high power mode, which gives a strong, harmonically rich sound.
The ebow has been used at one time or another by nearly every guitarist under the sun : Radiohead, Tom Petty, Dave Gilmour, Sigur Ros, NIN, Coldplay, Smashing Pumpkins, The Cure, REM, U2, etc etc…
Creating The Sampled eBow Instrument
We wanted to capture the sound of the ebow for all those non-guitar players out there, or perhaps guitarists who have had problems using it with an acoustic guitar! Two guitars were painstakingly sampled, an acoustic and an electric. Both were sampled with the high and low power ebow setting, with vibrato and then again without vibrato.
Several note off samples were recorded for every note, to make the instrument's response as detailed and lifelike as possible. The level of the note-off sounds can be mixed to taste by the user. The acoustic was recorded in full stereo to give a natural, spacious image. The electric was recorded mono D.I for use with amp simulators or for re-amping.
The high and low power setting can be cross-faded using the mod-wheel -a very expressive effect not possible with a physical ebow! The vibrato samples can be selected using a keyswitch on keys B5/C6.
Details:
Acoustic Guitar : Santa Cruz Dreadnought Model D Electric Guitar : Gibson SG 61 Re-issue (Humbucking Pickups)
450 Stereo 24 bit 44.1khz Samples in 11 groups
Stereo pair Microphone Recording
Range E1 – G4
3 Note-off Samples for per note ( Round Robin)
Every note sampled twice on eBow Low Power, Vibrato and Non-Vibrato ( R.Robin )
Every note sampled twice on eBow High Power, Vibrato and Non-Vibrato ( R.Robin )
500 Mono 24 Bit 44.1khz Samples in 10 groups
High Quality D.I. recording for Re-amping/ Amp Simulator
Range C1 – C#5
2 Note-off Samples per note ( Round Robin)
Every note sampled twice on eBow Low Power, Vibrato and Non-Vibrato ( R.Robin )
Every note sampled twice on eBow High Power, Vibrato and Non-Vibrato ( R.Robin )
home page