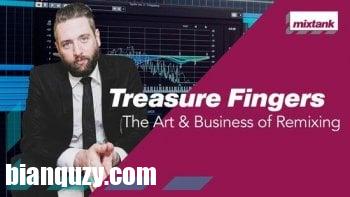 Team DECiBEL | 06 Jul 2021 | 4.95GB
Ashley Jones AKA Treasure Fingers 重制超过 3 小时 48 分钟,为完整的混音艺术和业务提供了独家深入的蓝图。
从工作室,您将学习如何掌握在 Cubase 和 Ableton 上创作原创声音所需的创意方法和专业制作技术,到获得混音机会、获得报酬等背后的商业方面。
这是我们迄今为止最详细、最全面的课程,它超越了工作室,将为您准备每个制作人在其职业生涯中将面临的现实生活场景。
在 20 个章节中,Treasure Fingers 涵盖了许多有价值的主题,包括:
如何确保混音机会
如何为您的混音获得报酬
在哪里可以找到原始茎
时间拉伸样本
重新制作旋律
如何围绕现有歌曲设计自己的原创声音
混音和母带
编排和附加编辑
考虑一下您的新混音圣经,该制作人已为 Avicii、MK 和 Eric Prydz 等人正式混音,并已在 Fool's Gold、Defected、Nervous 等唱片公司发行。
章节
混音101
准备混音词干 (Cubase)
准备混音词干 (Ableton)
寻找关键和创造 MIDI
时间拉伸和扭曲
打击鼓
添加您自己的鼓
使用文件夹保持井井有条
添加您自己的 Bassline
翻转原始声音
开始安排
诗句和结构
故障和变化
低音细节和处理
乐器和额外零件
对鼓进行分组和过滤
混合比较
快速混音和 DJ 大师
广播和其他编辑
最终建议
DAW – Cubase, Ableton
Weighing in at over 3 hours and 48 minutes, Ashley Jones AKA Treasure Fingers delivers an exclusive in-depth blueprint to the complete art and business of remixing.
From the studio where you'll learn how to master the creative approach and specialist production techniques required to create original sounds across both Cubase AND Ableton, to the business aspects behind securing remix opportunities, getting paid and more.
This is our most detailed and comprehensive course yet that goes beyond the studio and will prepare you for the real-life scenarios every producer will face during their career.
Across 20 chapters, Treasure Fingers covers a wealth of valuable topics including:
How to secure remix opportunities
How to get paid for your remixes
Where to find original stems
Time-stretching samples
Re-working melodies
How to design your own original sounds around an existing song
Mixing & mastering
Arrangement and additional edits
Consider this your new remix bible, presented by a producer who has remixed officially for the likes of Avicii, MK and Eric Prydz, and has released on labels like Fool's Gold, Defected, Nervous and more.
Chapters
Remix 101
Preparing Remix Stems (Cubase)
Preparing Remix Stems (Ableton)
Finding The Key & Creating MIDI
Time Stretching & Warping
Attacking The Drums
Adding Your Own Drums
Keeping Organised With Folders
Adding Your Own Bassline
Flipping The Original Sounds
Starting The Arrangement
Verses & Structure
Breakdowns & Variation
Bass Details & Processing
Instruments & Extra Parts
Grouping & Filtering The Drums
Mix Comparison
Quick Mixdown & DJ Master
Radio & Additional Edits
Final Advice
DAW – Cubase, Ableton
home page