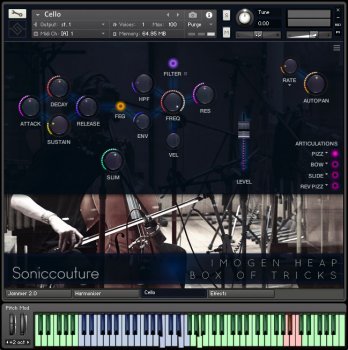 FANTASTiC | 19 November 2019 | 12.9 GB
CREATED FOR IMOGEN BY IMOGEN
Imogen Heap塑造了Box of Tricks的各个方面。
她的乐器独家精选,详细采样并带有自定义脚本,效果和工具;所有人都设计了她想使用它们的方式。
Box Of Tricks已经在Imogens的现场表演和工作室项目中进行了Beta测试:这个过程有助于产生想法并完善乐器。
从最初关于免费堆乐器的想法到三年后的最终结果; Box Of Tricks是一次真正的非凡协作。
EUCLIDEAN BEATS
Included with Cocktail Kit and Vocal + Body Percussion Kit
An exciting way to generate complex beats, based on Euclidean mathematics.
No matter how many steps or hits in each individual pattern, they will always be evenly spaced across the bar.
Assign some controllers and jam: you can't put a beat wrong.
JAMMER 2.0
The latest evolution of our generative arpeggiator, with new ideas from Imogen.
Hold a chord, and let it evolve – or loop a section and jam between 12 sequences.
Record your patterns with the MIDI recorder, and drag and drop into your DAW.
RECORDING BOX OF TRICKS
Imogen recording the Cello samples in the studio. An unconventional set of techniques, including slides to generate swirling harmonics, and incredibly soft bowing that allows the natural sound of the cello to break up and unravel.
HEAP SPACES + EFFECTS
Box of Tricks features convolution reverbs sampled from Imogens house.
From the dry Hideaway Studio, to the spooky Runaround Tunnel.
Add as effects or place a whole ensemble in these characterful acoustic spaces
SYNTHESIS TRICKS
Choose from 14 different filter types, with Envelope and Velocity modulation
Take the lumps out with Imogens custom SLIM knob; a fundamental frequency EQ..
Add creative Heap-style stereo FX with the Auto-Pan module.
Library Specs
Kontakt Player 5.7.3 Compatible
30GB core sample library (13GB with Kontakts compression)
13 Kontakt Instruments
24/96 Stereo Sampling
Multiple velocity layers, round robin layers & articualtions (varies per instrument)
170 Snapshot presets
home page