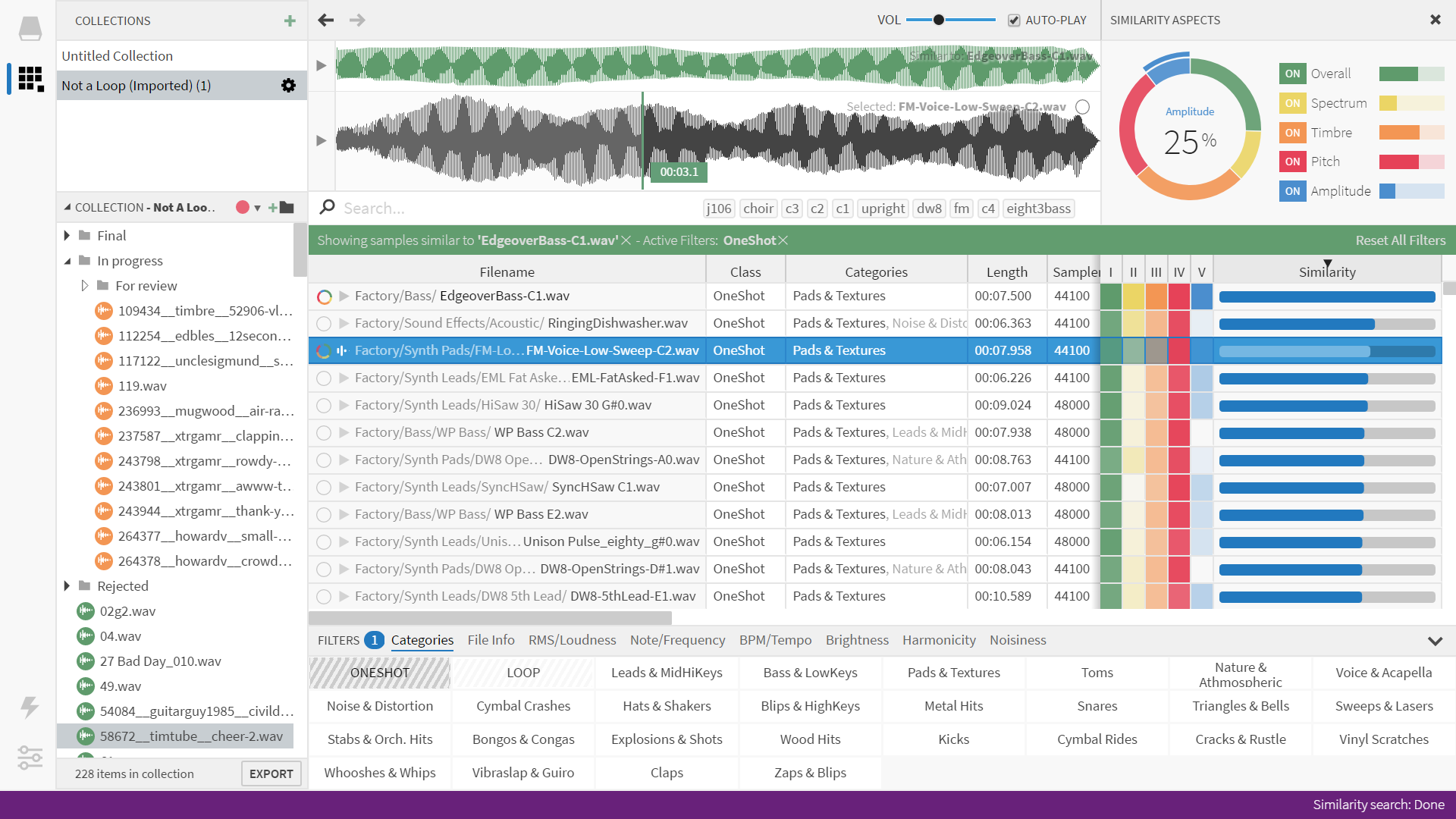 一款人性化的音频分析软件,使用这款软件可以对音频的工作流进行分析或者对歌曲进行识别等操作。这是一款新软件,软件界面简洁操作简单,拥有强大的音乐相似性搜索、对音频进行自动分类等功能,用户还可以对音频添加书签或者进行导出保存。
---
File Size : 65.85 MB
Sononym represents an innovative approach to sample browsing, using machine learning and audio feature extraction to make personal sample collections searchable and discoverable.
---
The primary innovation in Sononym is called "Similarity Search", a special search mode which accepts any sound as the input, and finds relevant sounds throughout your sample collection. Using this approach, it's even possible to connect a synth, guitar or microphone to locate samples by recording new sounds on-the-fly.
In addition to this, the software offers many other features that you would expect from a sample browser, such as fully searchable and sortable file/results views and a modern, streamlined user interface.
A new version of Sononym has arrived. Here are the key highlights:
Drag and drop of multiple files
Filter by notes across octaves
Shuffle/Randomize Search Results
Manually Override Classes & Categories
Remove/Delete Files and Folders
"Scroll-locking" During Similarity Search
Whats New :
Optimized: Faster pasting and verification of missing files in collections.
Changed: Removing a filter no longer resets the filter state, merely disables it.
Fixed: Categories filter panel could cause freeze when just one row.
Fixed: More checks for mangled/corrupted wav files (file indexing).
Fixed: Explore tab now always showing folder tree (could go missing)
Fixed: Some minor issues with auto-complete/auto-suggest in search input
Fixed: Prevent "pinch to zoom" gesture on macOS (magic trackpad
Fixed (v1.1.1): Security warning on install (macOS 10.14.5 and newer)
Fixed (v1.1.1): Crash on app exit (affected some macOS installations)
Fixed (v1.1.1): Misspelled category name (Athmosphere => Atmosphere)
Fixed (v1.1.1): Inconsistent "Play and Stop" behaviour
Fixed (v1.1.1): "Add to Collection X" not working from context menu